You Need Pie is your choice for the best breakfast in Estes Park. Choose your favorite breakfast combo and get your day started with a slice of pie. Order online for carryout or delivery!
Cakes & Bakes
Quiche – Our Creamy and light "egg pie" varies daily, so ask your server about today's specialty. Served with a side of hash brown bake or fruit $9.50
Flap Jacks – Hearty, old school, house made flap jacks served with warm syrup $9.00 Add chocolate chips or blueberries for $1.50 each. Load'em up? Add your mix-ins, check out the table card!
Cinnamon Roll French Toast – One of our house made cinnamon rolls, half and dipped in egg butter, then grilled to a perfect golden brown. Served with syrup & icing. Holy cow it is good! Served with a side of hash brown bake or fruit $12
2 X 2 X 2 Combo – Two slices of French toast or two flapjacks, two eggs and two bacon or sausage $12.50
Banana Bread French Toast – two slices of our housemates sweet bread, grilled till it's crispy on our flat top. Serve with hash brown bake or fruit $12
Muffin and Fruit – one our own, fresh made from scratch muffins and a cup of fresh fruit. Ask about today's selection $7.5
Scrambles $13
All scramble start off with three fresh cracked eggs, milk and a blend of seasoning. Served with toast or a housemaid biscuit along with hash brown bake or fresh fruit.
Subway flapjack or bagel for $1.50
Cheddar Scramble – crumble sausage, cheddar and caramelized onions scrambled up and served pipin' hot!
Denver Scramble – even though this is axis Park we give a shout out to our valley neighbors with all the traditional stuff: dice ham, bell peppers, onions, cheddar and Jack cheese. Mmmm…
Oinker Scramble – for the meat lovers only crumbled sausage, diced ham and bacon with cheddar cheese. Get ready to pig out!
Boulder Scramble – Boulderites unite! Fresh leaf spinach, sliced mushrooms and Jack cheese. Delish!
Arizona Scramble – Mexican chorizo sausage, onions, jalapeños, pepper jack cheese and pico de gallo. Aye caramba!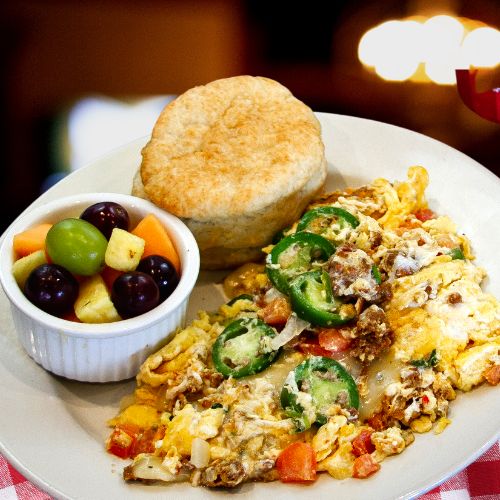 Build Your Own Breakfast Burrito or Scramble!
Pick all of the ingredients that make you happy, happy, happy! From the custom order form on the table then we will create your very own one of a kind breakfast burrito or scramble, filled with your fixings and 2 fresh cracked eggs. Burritos, smothered with pork green chili, sausage gravy or cheese. $13.00
Biscuits & Gravy – just like grandma used to make on Sunday morning. Thick and creamy sausage gravy, loaded with crumble sausage, laid over homemade biscuits it slap your mama good! Serve with hash brown bake or fruit $12.00 or half oder for $8.00 Complete your meal and add two eggs $3.00
The Oinker Biscuit – our house made biscuits smothered and sausage gravy, sausage crumbles, ham chunks and chopped bacon. Served with hash brown bake or fruit $14.50 Complete your meal and add two eggs $3.00
Corn Beef Hash – huge chunks of our slow roasted, house made corn beef, grilled potatoes and onions, topped with two eggs. Served with your choice of biscuit or toast $14.50
YNP Chicken Fried Steak Breakfast – our famous cube New York strip steak, house breaded and fried, southern style and smothered in our own country gravy. Served with two eggs and hash brown bake or fruit $15.50 Rather have chicken? Just say "Gimme the bird!"
Egg Sandwich – Mmmm…served on our housemaid biscuit, bagel or bread with an egg your way in choice of cheese. Served with hash brown bake or fruit $10.00 Add bacon, ham or sausage for $1.50 each
Shannon's 5-Star Special – a Midwestern favorite for sure! A play layered with tater tots, two scrambled eggs, ham chunks and sausage gravy ladled on top, serve hot and ready to stick to your ribs. $13.00
Amalia's 5-Star Special – A Santa Fe favorite. A huge pile of tater tots, two scrambled eggs, chorizo in our house made pico layer under our house made pork green chili and a dollop of sour cream on top. $13.00
Rocky Mountain Oatmeal – no self-respecting diner uses instant oatmeal! So we take old-fashioned rolled oats and boil them to order it with milk and water in at nuts embarrassed to make a creamy treat for all ages. $11 or order it with regular with butter, brown sugar and syrup. $9.00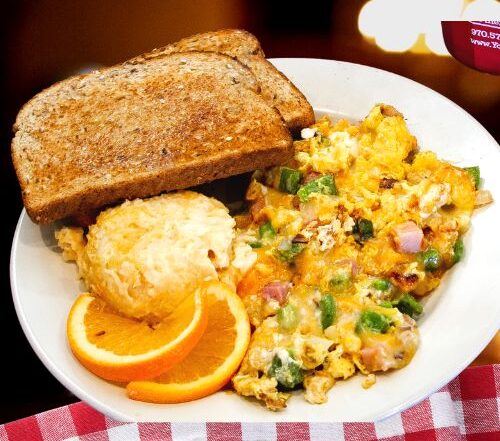 Junior Breakfast
Happy Face Jacks or Jills – one flapjack with a bacon mouth, fresh fruit eyes and a chocolate chip nose! Whipped cream for hair completes the portrait. $6.00
Jr. Flap Jacks – junior size double stack of flapjacks, served with butter and warm syrup. $6.00 Make it a triple stack for $7.50
1 X 1 X 1 – one egg, one bacon strip or sausage patty and one slice of toast. $7.00 or Sub Junior flapjack for $1.50
Jr. Breakfast Burrito – just like the big kids, fill out the order form, give it a name and turn it in. $8.00
Cold Cereal – prepackaged portion of cold cereal after seven for varieties. $3.5
Breakfast Sides
Bread (biscuit, toast or a bagel) $3.00
Breakfast meats (bacon, sausage, turkey bacon) $3.5
Breakfast potatoes (tots or hash brown bake) $3.00
An Egg – $1.50
Drinks
Coffee or hot tea $2.75
Fresh squeezed orange juice $5.50
Sunrise shake – fresh squeezed orange juice and hand dipped vanilla ice cream shake. $7.50
Milk $3.00
Hot Chocolate or Cappuccino $3.00
Jr. Drink $ 1.50
Eggs served over easy or sunny side up may be undercooked it will only be served upon the request of the customer. Notice: consuming raw or undercooked meats, poultry, seafood, shellfish or eggs may increase your risk of food-borne illness especially if you have certain medical conditions.